Water Crystals

What does Hexagonal Water mean?



Hexagonal stucture of the water crystal is the sign of harmonic water full of natural energy, as in nature. Water supply systems weaken the water as crystal on left without structure shows.
The unique forms of our products restore living water hexagonal structure. More ...

Golden Ratio

How does it influence water?



Photos of water crystals show that the Golden ratio has beneficial influence on the water. That is why shape of all our products is created on the basis of the Golden ratio.

Thankyou Bottles

Why are they named Thank you?



These are the first bottles in the world made from 100% natural materials that are 100% bio-degradable. If our Earth could talk, it would say: Thank you!
Free International Shipping and Prices include GST for NZers




Alladin Carafe and Mythos Glasses
1.3 litre Carafe plus Mythos in golden PHI ratio proportions with Flower of Life (pictured) energy matrix emblazoned into base in pure gold. Revitalise water in 3 minutes . Water crystal, by Masaru Emoto shows change to liquid crystalline, full-spectrum water state. 250ml glasses add 1, 2, 3 fibbonacci sequences to Alladin's golden ratios of 1, 1, 2, 3, 5 and 8. Prices include shipping to all countries. Hand-crafted, mouth-blown, lead-free glass safe up to 70°C/158°F.
SPECIAL: This Alladin Carafe & 4 Mythos Glasses $197 NZD until end of August 30.

Mythos Chakra Glasses
Drinking vitalized water influenced by special colours, symbols, words of affirmation on the base of seven 250ml Mythos Glasses mouth-blown and hand-crafted in Golden Ratio proportions to help balance chakra energy centres. Each of the 7 chakras governs different aspects of physical, emotional and mental wellbeing. Seven 250ml Mythos glasses with golden-ratio design. "Harmony" for the 2nd chakra (orange) can also be purchased separately.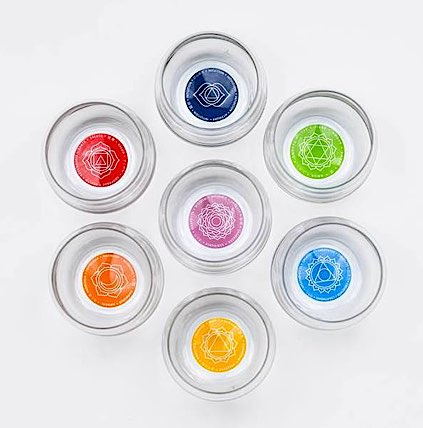 Machine-crafted in lead-free glass
Safe to 70°C/158°F.
Prices include freight to all countries.
More about Mythos Chakra Glasses


Golden Delicate Carafe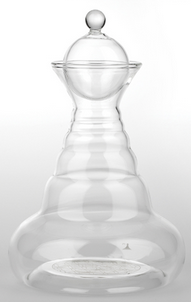 The Golden Delicate is a smaller size of the well known Alladin carafe , easy for children to handle, with a capacity of 500ml. It's water crystals even shows a smaller "child" growing from the parent crystal. Hand-crafted and mouth-blown in lead-free glass. Can be heated up to 70°C/158°F. Prices include shipping to all countries.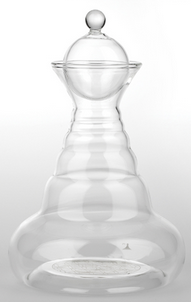 Cotula Bowls in Golden Ratio
The Cotula bowl is a real eye-catcher, even when empty. The tall, hand-blown shape hgihlights the dynamic lines of the Golden Ratio and a white Flower of Life embossed in the base adds to the revitalisation of foods placed in the bowl. The smaller Cotula has a diameter of 12 cm sand is 6.5 cm deep. A larger Cotula has a diameter of 23 cm and is 12cm deep.

Traditional craftsmanship mouth-blown in lead-free glass that can be heated up to 70°C/158°F. Prices include shipping to all countries.

100% Natural THANKYOU Drink Bottles
Each THANKYOU gives a blessing to water revitalising it with the love and appreciation that gives water greater health qualities. 100% eco-frinedly with all natural materials including a cork surround, true rubber rings and a pure wooden top. Baby's and HOT bottles made from hardened boro-silicate glass can be heated to boiling point. 500ml and 700ml bottles are safe to 70°C/158°F. Glass is 40% recycled and 60% natural quartz sand. Each has famous golden ratio proportions providing a noticeable improvement in 3 mintues. Wooden tops can be rinsed and washed but not immersed in water. All parts can be purchased sepearately. International shipping included in prices.

Flower of Life Drink Bottles
This trendy, practical, 100% natural water bottle carries 700ml/24 fl.oz and fits into all popular bottle carriers and holders. Its all wood top seals tight for leak-proof travel and its precisely-fitted shell of natural cork is non-slip and protective. Its glass is 40% recycled and 60% natural quartz sand. Hand-crafted, mouth-blown, lead-free glass safe to 70°C/158°F. The bottle top being all wood will eventually wear out and all parts are replaceable. Prices include shipping to all countries.
Restore vitality to food, water and home giving you subtly more energy, protection, support and health.
Use with a healthy diet, exercise and real connection with nature and yourself as a spiritual being.
Vortex Straw and Stirrer
The vortex, a natural phenomenon, underlies the design of the "Calamus" drinking straw. Because of a fine spiral cut into the narrow glass tube, any liquid that passes through it acquires a powerful vortex motion. As seen in tornadoes, wildly-flowing rivers and ocean waves – the vortex action increases the ienergy present. The delicate structure of the hand-blown drinking straw takes its shape from the Golden Ratio. For children over 6 years.
Drinking water through the 24cm straw gives it more liquid cyrstalline structure and keeping a straw in a glass of water has a resonance effect in the water that also adds energy to nearby water. Stirring with it structures the water with increasing effect as more of the divisions in the wtraw sit within the water (or other liquid). If the straw is only partially immersed place place its smallest partitions lower most so at least the first three are in the water. Water may be stirred clockwise, counter-clockwise and both.
Experiment and taste your results. Straws are only be shipped with other products. Boro-silicate glass safe to 100°C/158°F. Can be boiled.
Water Eggs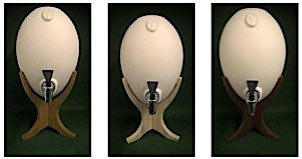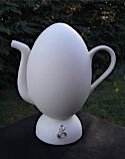 Ceramic Water Eggs made of clay energise water with a continuous subtle energy flow that produces a smooth, alive, clean tasting energy not present in tap, distilled and filtered water. Golden ratios spirals within the egg follow Viktor Schauberger'sdesign of the vortex torus.

Enjoy the 1.5 litre Water Egg Jug on your table and draw water from your 4.3 litre Harmoniser Water Egg for improved cooking, brewing, drinking and wine making. Receive poplar stand for the 4.3 litre or et us know wan oak or sapple stand. Both Water Eggs are glazed on the inside and include PHI Spiral Harmonisers. The Jug is turned upside down to fill and the 14 litre has a tap that is metail and food grade plastic. Care instructions and emailed to all customers.

=

Wine Glasses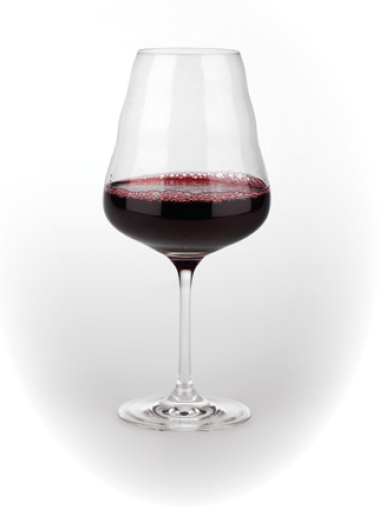 Your table is elegant with 500ml wine glasses mouth blown and hand-crafted in golden ratio proportions and a white flower on its base. Wine becomes more bubbly, flaours and tanins are accentuated and a subtle smooth energy emerges. Prices include shipping to all countries. Lead-free glass, dishwsher safe to 70°C/158°F.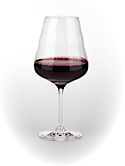 PHI, 3 and 4 Spiral Harmoniser Pendants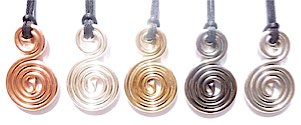 Different metal platings over copper tubing filled with very high frequency structured water building strong personal energy fields least affected by EMF, mobile phones, WiFi and challenging earth, sun and people energies.
Visit Harmonising Energies or Click on Images above.
Vortex Air Energisers
EMF Space Harmonisers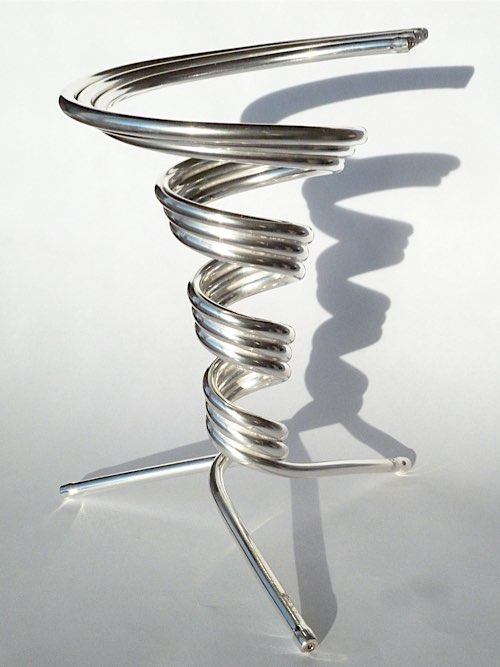 Vortex Air Energisers combining the concepts of Viktor Schauberger, John Keely, Masaru Emoto building strong bio-fields so people, animals and plants can stay healthy in toxic city environments or expsed to adverse earth energies, EMF and WiFi. Large (approx 18cm high by 15cm wide and 390g) for protection within the inensity of most city WiFi, EMF, RF situations and for those who are electrically sensitive. Small around 12cm high and wide and 167g is for rural situations or placement right by the WiFi modem/router and phone. Every Energiser holds high frequency resonant energy water within hollow copper tubing to provide maximum health benefit.
Vortex Water Energisers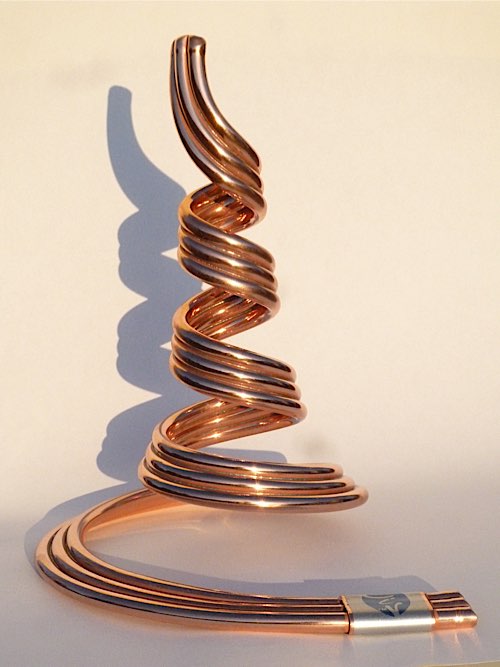 Vortex Water Energisers combining the concepts of Schauberger, Emoto, Keely and others to enhance the quality of your living water giving it greater energy and more liguid crystalline structure. Size approx 200mmH x 185mmW. Weight about 376g. Pictured below is the Kirlian Energy Field created by the Copper Vortex Water Energiser and London tap water before and after treatment (2). See Kirlian Energy Field created by the Copper Vortex Energiser above. Reference.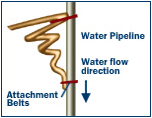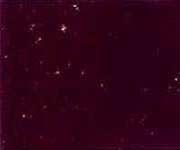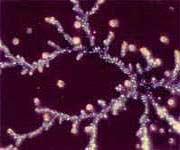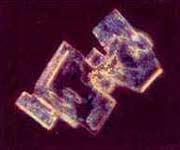 Vortex Land and Industrial Water Energisers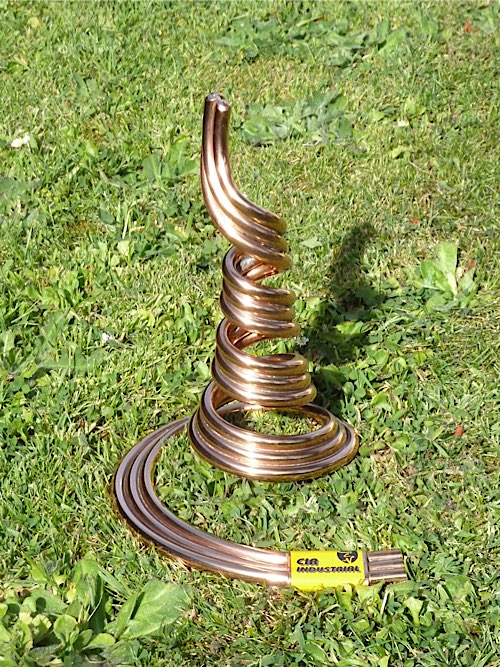 Vortex Land and Industrial Sized Water Energiser with cooper tubing 50% greater in diameter carrying nearly 3X the volume of high-frequency energise water of the standard Vortex Water Energiser in a larger size. Treats industrial scale sewage, septic tank, waste and compost. Reduces grass, crop and stock needs for water and fertiliser by up to 50% on much larger areas. Size approx 230mmH x 196mmW. Weight about 800g. Effects on Water and Installation Instructions (pdf)
Dancing with Water
2nd Edition 2017
The New Science of Water - A Guide to Naturally Treating, Structuring, Enhancing and Revitalising Your Water
M.J. Pangman & Melanie Evans
As a blend of the most recent advances in traditional science, and spiritual wisdom for our evolving planet, this book is a unique, engaging and well-referenced guide, providing insight into water's unique qualities and offers instructions for creating full-spectrum living water: how to structure, add information and energy ... and more ... opening the door to the "Age of Water' typified by reverence for nature and all life. Unique qualities inherent in water and its hidden potentials are ready to be awakened within us, as water beings. Are you prepared to become a conscious creator and participate in the Dance with Water?. 287pp. 40% new material. Feb 2017.
$36 shipped in NZ and $42 shipped to Australia.
USS18.99 plus shipping when purhcased at DancingWithWater.com
Living Sacred Geometry Tuition
Explore our Living Sacred Geometry ECourses learning the design principles of nature for a new consciousness and respect of the feminine, and inward spiralling as well as outward, explosive energies HERE
30 day guarantee on all products, when returned in good order, excluding shipping costs.
Share this page
Follow Us
Enquiries Invited

David Baillie ND, BSc, RBT, RTC
Awakening Consciousness and Energy Medicine Sessions Internationally: Skype, Email and Phone
Consultation Bookings and Product Inquires Invited

Massage and Rebirthing
Room 6, Craigie House, 22 Manse St, Dunedin
Fridays every four weeks in 2017: Sept 1 & 29, October 27, November 24 and December 22nd

Gemstone Energy, Coaching, Massage, Naturopathy and Rebirthing
Harmony Forest Centre, 11am - 3pm daily by appointment.

Email: UnityConsciousorg @ gmail .com (no spaces)

Websites:
UnityConscious.org - Harmonising Energies
NaturesDesign NZ
Gemstone Energy Medicine
Loving Water NZ
Vortex Water Enhancement NZ
---
Inspirational Universe
Dreams put Living into Action - Love, David