NaturesDesign.nz News

Restoring Liquid Crystalline Vortex Structured Hexagonal E-Z Water with Golden-Ratios, Spirals and Earth Resonance Energies.
Dear Reader
Thankyou for your interest in the nature of Vortex Water Energisers, Harmonisers and Revitalisers; EMF Space Harmonisers Personal PHI pendants; Water Eggs and living geometry explaining them.Each month Peter and I offer a little about each one of these and cover one in a little depth. We believe in providing information and that every one of our products works better for you if you know a little about how it does so.
The links above and all image links open in a another window or tab - possibly the same one each time
If you have purchased or expressed an interest in one of our products, you are emailed a wee note with a touch of information you won't see anywhere else. The email invites you to go direct to our most recent news at the start of every month. We let you know this is happening and if you no longer want to receive these notes reply to the email with "unsubscribe" as the subject and let us know your reason in the message.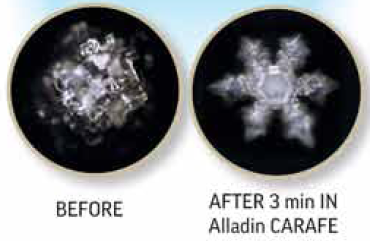 If you have arrived at this page in a different way email: harmonisers @ unityconscious.org (cut and paste - with no spaces) with "Subscribe Nature's News" as the subject, and in the body of the message share what you are most interested in.
By subscribing you will be eligible to receive our Living Sacred Geometry Course FREE each month explaining key universal principles about water, energy, life, health and relationship exclusively to our customers and subscribers. Access is included in the email and a new lesson are published the middle of every month.
Our format for this news is to give you a few words about each one based on the queries and questions we receive and answer daily. If you have a question you would like answered email Harmonisers@unityconscious.org (cut and paste, remove spaces) and I, David, will see that it is.
The notes begin to show you the principles of universal design. How you see the world changes so please send us questions and we will build your answers into what we write as we share more. Our books, the vortex structured water you drink and the Energisers and Harmonisers you wear and have at home will add to your understanding because water stores and transmits information. With it we remember.
The Monthly Nature's News

Opening in their own new tab or window
Natures News: Spiritual Livelihood, Bees + Feeling Good and Protected with Nature's Energies<



Explore more: Shop at: NATURESDESIGN.NZ and UNITYCONSCIOUS.ORG




Explore more on Water at: LIVINGWATER.NZ and VORTEXWATER.CO.NZ
Share this page
Follow Us
---
Inquiries Invited

David Baillie
ND, BSc, RBT, RTC (Editor)
Harmony Energy Centre
239 Waitati Valley Rd
RD 2, Waitati 9085
New Zealand
Phone: 64 211 22 0910
Email: UnityConsciousorg @ gmail .com (no spaces)




Peter Ratcliffe
PO Box 107
Morrinsville 3300
New Zealand
Phone 64 27 344 9727
Email: peter @ vortexwater.co.nz (no spaces)